Here are the latest RF MOD promotees after confirming their current postings.
General-Colonel (3 stars)
Aleksey Kim…Deputy CINC of Ground Troops for Peacekeeping.
Admiral (3 stars)
Aleksandr Moiseyev…Commander, Northern Fleet.
General-Lieutenant (2 stars)
Roman Berdnikov…Commander, 29th CAA, Eastern MD.
Andrey Burbin…Commander, 27th Missile Army, RVSN.
Dmitriy Krayev…Commander, 14th Army Corps, Northern Fleet.
Sergey Ryzhkov…Commander, 41st CAA, Central MD.
Sergey Chuvakin…Deputy Chief, GOMU, General Staff.
Vice-Admiral (2 stars)
Arkadiy Romanov…Commander, Submarine Forces, Northern Fleet.
Aleksandr Yuldashev…Commander, Troops and Forces in the North-East, Pacific Fleet.
General-Major (1 star)
Aleksey Avdeyev…Commander, 3rd MRD, Western MD.
Aleksandr Anistratenko…Deputy Chief, Main Armaments Directorate, MOD.
Andrey Baranov…12th GUMO officer.
Oleg Botsman…Chief, Military Institute of Physical Eduation.
Vladimir Kutsenko…Commander, 1st Composite Aviation Division, Southern MD.
Sergey Marchuk…Chief, Space Test Center named for Titov.
Vadim Morozov…Commander, 132nd Composite Aviation Division, Baltic Fleet.
Aleksandr Osadchuk…Commander, v/ch 74455, GRU.
Dmitriy Pyatunin…Chief, Material Support Directorate, Central MD.
Oleg Stepanov…Chief, Directorate of Military Representatives, MOD.
Andrey Sukhovetskiy…Commander, 7th Air-Assault Division, Southern MD.
Dmitriy Sukhoruchkin…Commander, 18th Military-Transport Aviation Division.
Yuriy Khort…Chief, Railroad Troops Directorate, Southern MD.
Sergey Chubarykin…Commander, 76th Air-Assault Division, Western MD.
Valeriy Shkilnyuk…Chief, 392nd District Training Center, Eastern MD.
General-Major of Medical Service (1 star)
Aleksandr Sergoventsev…Deputy Chief for Medicine, Central Military Clinical Hospital named for Mandryk.
Four new generals and admirals could not be identified in a position.
* * * * * *
Some notes on the above-mentioned promotees:
New General-Colonel Kim served in Russia's "reconciliation center" in Syria. He's a military academic previously posted to MAGS and the Combined Arms Academy. A specialist without command experience, he's probably achieved terminal rank.
Admiral Moiseyev is likewise unlikely to be promoted again. He's an experienced operator but he and Navy CINC Admiral Yevmenov are the same age. Moiseyev will probably have to be content in Northern Fleet. But strange things happen….
Kim and Moiseyev defy the wisdom that getting a promotion makes one more likely to be promoted. For that to work, there has to be a logical higher position.
Krayev was commissioned an airborne officer. He's served his career in naval infantry, demonstrating again that Russia's VDV aren't simply airborne — they're a jumping off point for combat commanders throughout the armed forces.
Chuvakin has no clear biographic details, but his father may have been the two-star General Staff officer who served as secretary of the Defense Council in the last years of the USSR.
Romanov is a former SSBN commander with an impressive service record. He commanded Typhoon-class SSBN Dmitriy Donskoy during testing of Bulava SLBMs.
Baranov has apparently commanded several nuclear weapons storage facilities, including one where conscript Shamsutdinov went on a killing spree in October 2019. Not a good look for Baranov but he got promoted.
Osadchuk commanded the GRU hacking outfit that broke into Democratic National Committee servers and gave the contents to Wikileaks in 2016. He's wanted by the FBI.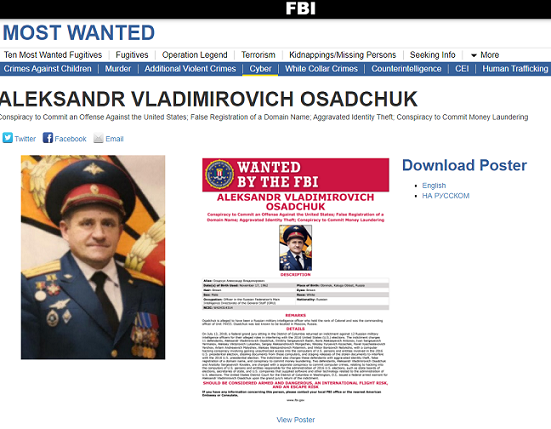 Stepanov's Military Representatives are the voyenpredy supervising work on MOD state orders in Russia's defense enterprises.